We recommend measuring the height available on the left side, centre and right side.
We also suggest measuring the wall to wall width of your room at the floor, mid and ceiling heights.
We are always happy to help if you are unsure about what measurements we need. Just give us a call or send us an email.  We will be delighted to assist you.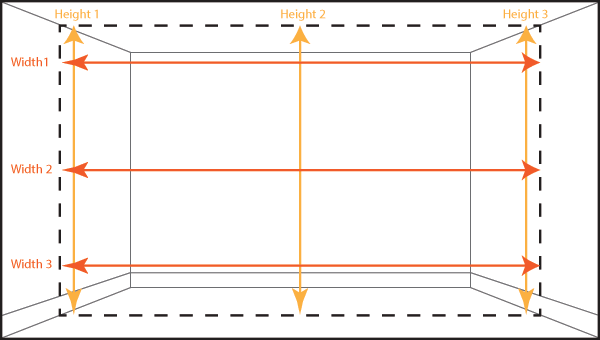 Wall & Floor Liners
If the walls of the installation space are not very square or vertical, we can supply you with wall liners. Similarly we can supply floor liners to compensate for floors which are not flat or straight.  Usually, we recommend floor liners when the wardrobe doors are to be installed onto carpet.
If you opt to use wall or floor liners, please supply your measurements from the inside of the liner rather than the surface on which they have been installed.
End Panels
If your wardrobe will not be fitted wall to wall, we can supply end panels.  Width measurements for this type of construction should simply be the width that you would like the wardrobe to have.
Infills
If your installation width is greater than 5000mm, we can supply infills which are typically installed either side of the sliding wardrobe doors. Infills can be used with our wall and floor liners.
Maximum Ceiling Height

For installations where the ceiling is higher than 2490mm, we recommend floor liners if the ceiling is only a little higher.
Restricted Height & Angled Ceilings
We are delighted to manufacture wardrobes and sliding doors for spaces with restricted height or angled ceilings, though we do need more extra measurements to be supplied.
As well as the overall width and height measurements, we need to know the following:
Where the sloping ceiling meets the wall, the first measurement is the height from the floor to the start of that sloping part of the ceiling.
The second important measurement is the width of the opening at ceiling level, from the wall to the start of the downward sloping angle.
A template of the angle is the most accurate way and preferred where possible.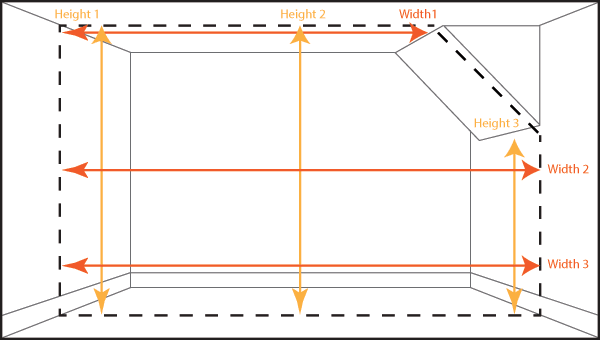 Want To Discuss Details We Need To Quote For You?
For more information about measuring, ordering or working with Profile Mirror Wardrobes, please give us a call or send us an email today.